Shopping Cart
Your Cart is Empty
There was an error with PayPal
Click here to try again
Thank you for your business!
You should be receiving an order confirmation from Paypal shortly.
Exit Shopping Cart
ROADRUNNER PILOT CAR SERVICES
| | |
| --- | --- |
| Posted on June 22, 2012 at 2:29 PM | |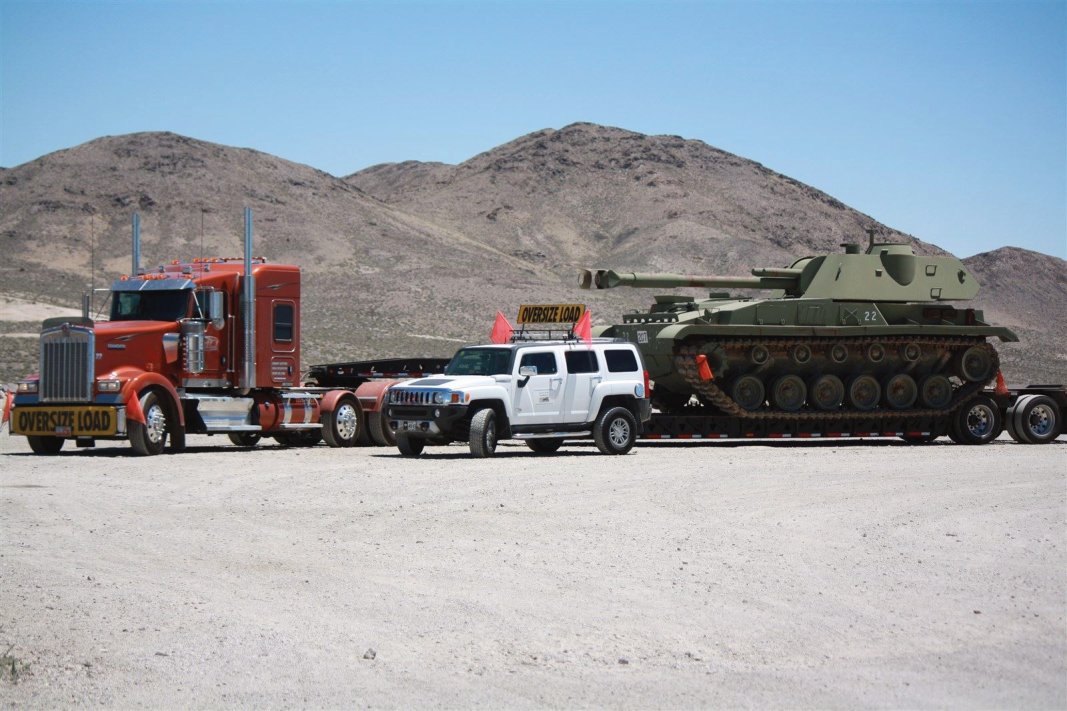 The Tank,
I met Dave on the start of a squelching hot day in Nevada, his boss Heath had called to say he had a nightmare load that had some logistical issues, it all started from the time they had picked it up. That's just a nice way of saying they got screwed on this load and now it was costing them a bundle. He needed me as an escort driver to help him with this load!
 I took the run and I met Dave, a tall biker guy whose passion had been driving trucks over the road for 36 years, he lives in Salt Lake with his wife and a 2003 Road King Harley. Together he and the woman he dearly loves have 4 kids, a 19 year old daughter and 3 son's that range in age from 18 to 31. He said, "he was getting tired of the road, the passion didn't have as much pull as it use too, sure trucking had changed over the years, he didn't like where the industry was headed now. It use to be truck drivers were knights of the road but not anymore".
The wide load Dave was hauling was in my opinion a relic from our past. A big army tank with a projecting gun turret. The power of what this machine once was radiated to every person who saw it, as we passed along our route to our destination of taking this piece of our history to its final resting place. 
I can't say what it was for most of the people who were drawn by some magical force, to come touch the tank and take pictures of their loved ones in front of it, as if they were at Mount Rushmore, wanting to keep that memory in their picture books to remind them,....
Yes,... to remind them of a time in our history where the power of our United States Military meant something more, than a weak apology from our government leaders to the world. Yes I saw it on that drive to northern Nevada. If you ask me, that piece of history I was escorting deserved more. It deserved a finer escort, a ticker tape parade, flags flying, police light bars and sirens blazing, citizens in reverenced awe of the memory of what our military once stood for.
Well, I can sure tell you that there is a slow tempest rising. I could see it on the faces of the people we passed on our journey. There is a quiet resolve, a need, a slow burning desire, to honor all the dedicated military with all the magnitude, that they have stood for throughout the ages, to validate a future strength that's united, standing for the freedoms that our founding fathers fought so hard for.
Well, Dave and I that day in the high Nevada Desert at the Navy base where this tank was being laid to rest.... validated this tanks history!
Thank You Dave and Heath from HD Transport for the experience of a life time!
See you on the flip side
Categories: Page two On The Road
/